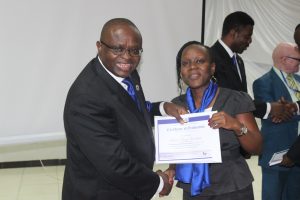 I did the INT course just after my first degree In International Business Administration Finance from USIU. A friend who was then attending class 16 recommended me to the course after i had approached with my frustrations about the current state of affairs in our country. I quickly enrolled for class 17 and i must say it was a life changing experience for me. Those 6 months turned my life around. I was a fresh graduate with no leadership skills but thrust into a leadership position. The Lord used INT to equip me with impeccable leadership skills at my age.
My project is to set up a mother and baby wellness center. A place where absolute best care is given to mothers and newborns. This project intends to lower the high infant mortality rates that in our country. My project is underway and i know it will achieve its purpose. INT taught me to not just complain about a problem but to get up and do something.
INT has also connected to people that are walking with me through prayer and fellowship. I have made new friends and gotten mentors from the wide network of INT alumni. I am now the treasurer on the INTAASU committee.
I am glad i got to do this course early on in my professional life. It is a life changing opportunity.